[column size="2-3″ last="0″ style="0″] 
PLEASE READ and join us on this FREE Teleconference,
if you'd love to have a RECORD summer!
Many martial arts school owners struggle through the summer…..with huge declines in enrollments, revenue, and active students…..while many of my own locations, and those of many of my clients (in BOTH the "Family" market AND the "Adult" market) FLOURISH during the Summer Months, flooded with new prospective students, and having RECORD enrollment months!
Why is this??
Well….it's not because they are smarter than you…..or live in "Better Demographics"…..
There are some SIMPLE, POWERFUL yet almost always overlooked strategies YOU can use in YOUR area, that can literally FLOOD your school with new students THIS SUMMER!
Best of all, many of these strategies are FREE or nearly free to take advantage of.
Last week, in our monthly NAPMA "Inner Circle" mastermind teleconference, I revealed just one PROVEN system that generated 61 enrollments in July last year, in just one of my schools! (FULL Enrollments mind you, not trials, 12 month agreements, at PREMIUM Prices $197/month) 
I know it might sound "hype-y" to make that claim, and I might be skeptical too if I were you, but these numbers are REAL. The systems WORK in today's market.
And, I wouldn't be so presumptuous as to expect that you take my word for it, so I've included some of the results we previously achieved in JUST ONE WEEK over the summer. (Below)
So, in an effort to help Martial Arts School Owners who want to make this Summer a HUGE success, and leave their Recession Worries in the dust, I'll be hosting a FREE teleseminar next week (along with NAPMA COO Toby Milroy and the NAPMA team) where I'll pull back the curtain and show you why and how my locations (and those of my clients) will enroll more new students in June, July and August than most schools will enroll ALL YEAR.
Sincerely,
Grandmaster Stephen Oliver
8th Degree Black Belt
CEO – NAPMA
National Association of Professional Martial Artists
[/column] [column size="1-3″ last="1″ style="0″]
**NOTE**
Current NAPMA Members
NO NEED to Register Here
The Step By Step Summer Success
Resource(s) are Available for
Your In Your NAPMA Members
Section – Click the Button Below:

 [/column] 
P.S. – I (and my team) are on an UNSTOPPABLE mission to help the Martial Arts Industry, and Martial Arts School Owners build more substantial, stable businesses, gain financial independence  and live the lifestyle they so richly deserve.
So please share this page with any of your colleagues, members of your martial arts association or school owners you think could benefit from creating a RECORD BREAKING summer season this year!
P.P.S – Here are JUST A FEW of the results I was mentioning earlier.
[list style="check"]
Doug Longoria (MHK Westminster) 263 Appointments Set, 28 1st Intros DONESo Far
Jeff Burroughs, Hamilton Ontario Canada – 55 Leads
Les Connard (MHK Monrovia (LA)) 192 leads, 178 appointments from the weekend
Mike Freidman, Lake Mary Florida – 40 Leads, 17 Appointments Set
Ramil Abratique (MHK Parker) 124 Appointments Set, 21 Intros DONE already
Joe Ash – Williamsburg, VA – 41 leads, 12 signed intros, totaling 24 new bodies in my classroom. The numbers are still coming in as yesterday we signed up to 2 more intros and have another 22 scheduled over the next week.
Sacha Williams (MHK Fresno) 159 Leads, 102 Appointments Set (40 Intros SHOWED already)
Allie Marrow, and Sean Smith (MHKSterling VA) 297 Leads, 209 Appointments Set
William Hildinger – Three Points Karate – 150 leads and set 27 appointments in the one and only day
David Dow (MHK LA) 173 Leads, 71 Appointments Set –
Brian Howard (MHK Orange City, FL) – 108 Leads, 48 Appointments Set
[/list] [note color="#fff6ae"]Sir,
We just signed up 5 students in less then an hour!
This is awesome!
Karate Academy
Sensei Marius Amzand[/note] [note color="#fff6ae"] GM Oliver,
We had a great weekend at our local theater! We started on Friday night for 4.5 hours and then continued on Saturday for 10 hours.
We were able to get banners hung in the lobby. A huge space for our tabling. Theater staff members in uniforms and a guest pass being handed out and every ticket podium. You didn't get into a movie those nights without getting a guest pass. The artwork, webinars, phone calls and videos were all great resources for this event. GM Smith was also a huge part in getting the right idea of how to run this promotion. The spin a prize wheel was essential. Anyone doing a promotion like this needs to have one.
In the end we did 153 new leads and 104 NEW APPOINTMENTS!!!
WE ARE BOOKED ALL THE WAY TO JULY 3RD!!!
This promotion has been incredible.
Thank you. — Wishing you every success,
Jason & Sergio Solis[/note] [note color="#fff6ae"]  Toby,
I've been reading the results from the weekend in my inbox and I wanted to let you know how we did in Stillwater, OK.
I had my grandmother's funeral and my brother's high school graduation both this past weekend, so I was only at the theater for a few hours.
I had VOLUNTEER PARENTS running the booth at the theater for the rest of the time and we collected over 150 leads and set 27 appointments in the one and only day we were allowed to be there. The staff was, AT THE SAME TIME running our in-school promotion at the studio and we collected 75 leads and scheduled 15 intros.
THEN on Tuesday at our local library that we were invited to, and in one day did exactly 50 more appointments. (the 'shows' were packed full of kids, and by fire code they turned families away at every show, which has NEVER happened before with a summer reading program)
That's a total of 92 intros in a town where a professional Martial Arts school isn't supposed to work.
Sorry for the long email, but I'm very excited and I think this promotion is going to bring us over the 200 student mark.
Thanks for all that you do at NAPMA!
William Hildinger
Three Points Karate
(405)372-KICK
Stillwatersbestkarate.com[/note] [note color="#fff6ae"]
Toby,
I got 93 leads from the opening weekend.
22 appointments set in the first week – 18 showed up
15 appointments the second week and we are only one day in and 10 showed up.
with our percentages we will have no problem signing up 90% of the appointments that showed up for there intros.
By the way I would not have got into my theater if it weren't for your letter that NAMPA and Sony allowed us to use.
Thanks,
Duane Brumitt
tristarkarate.com
duanebrumitt@tristarkarate.com
 [/note]
 And MANY, MANY more. 
What would your school look like, if you could attract 100, 200, 300 or more HIGHLY QUALIFIED, new prospective students into your classes?
[box title="Who Is Stephen Oliver – and Why Should I Listen to Him?" color="#1c03d8″]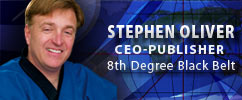 Gee – in our industry it seems like everyone has popped up to offer advice – 
how do you tell fact from fantasy? Value from Fraud?
Unfortunately in our industry most of the really successful people are spending their time growing their staff, students, schools, and especially their net profit not sharing their secrets with you. I am different from most of those sharing information in a variety of VERY important ways that are important to you and will help you dramatically grow your school – and, your income.
Many of the "gurus" in our industry fall into one of the following categories:
1. Never been there – never done that. 
That's right – there's a BUNCH of people trying to sell you advice who have never sat where you sit – and, dealt with the problems and opportunities that you face every day. They often are excellent speakers – and, persuasive purveyors of their own products, programs, or subscriptions but really never did it themselves. Their ideas are unproven. Their perspective limited to that of an outsider.
How am I different?
Well – I opened my first school in 1975. And, have been continuously operating my Mile High Karate schools in Denver since 1983. Mile High Karate currently has successful locations throughout North America. I've operated a large school operation – have taught 1000's and run every aspect of a school. And, can teach you step by step, item by item how to replicate my success – without the "brain damage!"
2. Not even a martial artist!
Believe it or not – there are "experts" in the martial arts business who aren't even martial artists. They don't understand the training, mindset, and love for the martial arts that we share – then dare to tell real martial artists how to run a school teaching real martial arts skills and curriculum.
How am I different?
I began studying martial arts in 1969. Trained in Tae Kwon Do with the Jhoon Rhee Institute along side the likes of World Champions Jeff Smith, John Chung, Charlie Lee, and the most awesome stable of kickboxers ever assembled. More recently I was promoted to 8th Degree Black Belt by Jeff Smith. Mile High Karate includes some of the top martial artists in the World from former World Champion Jeff Smith to the top people in the "Parker Kenpo" lineage, the top instructors in Kung Fu, Traditional Karate, Tae Kwon Do and, event Thai Kick-Boxing & BJJ.
3. Only run a school in their memory.
Some of those who consult or run organizations or even "fake franchises" only run a martial arts school in their memory – in some case distant memory. Some of those recollections seem more like a distant dream (or, in some cases vivid nightmare!) Many of these people operated in very different circumstances and times.
How am I different.
I am still totally immersed in the daily operations of martial arts schools – up to doing 527 enrollment conferences in the past 3 years personally – nose to nose, belly to belly. Every Friday I meet (by phone & webinar) with our Regional Developers from around the world. Every Wednesday I meet with our school owners, school managers and instructors – and, solve the everyday problems that you face in the real world (albeit at possibly a higher volume.)
4. Never ran a successful school.
Even those advise givers who really are Black Belts – and, run or have run schools – usually never ran a particularly successful operation. Many got into offering advice about running a school or, put together an organization (license, association or other fake – often illegal – franchise) since they really couldn't figure out how to make much of a living running a school or schools of their own. 
How am I different?
Right now – several Mile High Karate schools will do over $500,000.00 in gross revenues (in some cases much more) we will add many more locations with owner-operators like you, and with regional developers who develop multiple schools in their protected region. I broke the $1,000,000.00 a year barrier – way back in 1985 – and continue to operate a hugely successful operation. I've made a six figure + personal income for over 26 years strictly from schools. 
5. "Flash in the Pan"
Often this comes in the guise of – gee I just started figuring this stuff out and had a great year last year. What if you pay me to tell you about my short-term successes. I did $ (pick a number $100,000 net, $400,000 gross, etc., etc.) will do more this year – and, would love to show you how I did it.
How I am different?
Well – I've already covered this for you – but, let's just say that there are many people who have a good year of two. Let's see if they can weather the ups and downs of our industry – and, boom years and recession. 
6. Personality driven – not duplicatable.
I think we'd both be able to draw upon a few examples of Magnetic Personalities – who's personal success is exciting – but, really not something that could EVER be replicated in your operation.
How am I different?
I've run a large school operation since 1983. In that time nearly 100% of our teaching, marketing, and sales were accomplished by employees (or, now franchise school owner/operators) who had to implement my systems. They are not dependent upon charisma or unstoppable energy. I have spent years studying operations and marketing – including formally achieving a Master's in Business Administration – that included having a literal bevy of MBA's and Ph.D.'s analyze the martial arts school business – to help me create powerful duplicatable systems for school operations.
7. Have lost touch with what works in the 21st century.
Unfortunately the industry is full of dinosaurs and leaders of the past – who's time has long since passed, but who's friends and associates are unwilling to say "the emperor has no clothes." Systems that may have been revolutionary in 1970 or 1980 (even 1990 and beyond) may be out of date or just plain insufficient in the current environment.
How am I different?
In a variety of ways I continue to explore the "leading edge" of new technologies, teaching techniques, marketing strategies, and technological enhancements. I explore the latest approaches not only through my own school implementation but through an unmatched "master-mind" team of industry leaders that I network with and share ideas with constantly. The latest strategies and tools are immediately available to all of our franchisees.
[note color="#fef4cd"]
A Little Background:
Maybe I was just born under a lucky star – but when it comes to running a professional martial arts school I was born with the proverbial "Silver Spoon."
My training started in 1969 in the Texas/Oklahoma "Blood & Guts" era. I was with the at Jhoon Rhee Institute Branch in Tulsa, OK in the Jhoon Rhee, Allen Steen, Pat Burleson linage being directly taught at when I started by Jhoon Rhee Black Belts Gran & Greg Moulder, Bob Olinghouse, and David Harrelson.
I started my first school (under Jhoon Rhee) in 1974 and, concurrently trained with Jeff Smith along with Roger Green (Joe Lewis' first Black Belt), and a variety of others in Oklahoma and Texas.
In 1978 I received by Black Belt directly from Jhoon Rhee along with Jeff Smith and a wide collection of champion Kickboxers and forms competitors. I was offered a teaching position in Washington. I was a National Merit Scholar and A student and already was accepted for college at the University of Tulsa with a full scholarship for the first year and partial scholarship beyond the first year. I attended school there while applying for transfer to Princeton, Stanford, and Wharton along with Georgetown University. 
While attended college at Georgetown University I was a head instructor and branch manager for The Jhoon Rhee Institute, in Washington, D.C.
At the time the Jhoon Rhee Institute was the #1 martial arts business organization in the world. I sat through hours and hours of training sessions and meetings with a few notable figures in the martial arts industry: Jhoon Rhee (father of American Tae Kwon Do,) Nick Cokinos (Then President of the Jhoon Rhee Institute, now chairman and owner of Educational Funding Company,) Jeff Smith (the DC Bomber – first World Light Heavy Weight Kickboxing Champion and one of the top school owner's in the United States,) Ned Muffley (then General Manager for the Jhoon Rhee Institute and now General Manager for Educational Funding Company) and many other's.
When I graduated from Georgetown – I decided against moving on to big corporate America – and, put pursuing an MBA on hold.
I put together a very extensive business plan with Jhoon Rhee, Nick Cokinos, Jeff Smith and Ned Muffley's help. Spent 12 months studying direct response, business management, and sales marketing at the Library of Congres and the SBA. Read everything that I could get my hands on about advertising – specifically direct mail and copywriting. I also spend several months at the Federal Trade Commission where I had an opportunity to read the sales manuals and management training materials for every major health spa chain in the United States and the other larger martial arts school organizations.
In a rather gutsy move I then moved across the country to Denver, Colorado and with $10,000 opened 5 schools in 18 months – and grew to over 1,500 active students and over a $1,000,000 in revenue by 1985.
Over the year's I've continued to develop my schools and experiment with a huge number approaches.
In 1989 I decided to extend my management knowledge base and went back to school for a Master's Degree in Business Administration (ie. MBA) with a primary focus marketing.
At the same time I began promoting the Mile High Karate Classic – which for 10 years was a very successful and highly rated NASKA world tour event.
During these many year's I've had the privilege of meeting and working with just about every successful business person, teacher, and school owner in the martial arts industry. I'm lucky to count as close friends a range of leaders including Nick Cokinos, Jhoon Rhee, Jeff Smith, Andrew Wood, Tim and Dave Kovar, Steve LaVallee, Keith Hafner and just about everyone who's accomplished anything in our industry.
These industry leader's have taught me much – and, I believe often consider me a mentor and leader in the business of martial arts school operations.
During these years I've had many huge successes – and, some spectacular failures. As in all endeavors – the failures have taught me much more than the successes. What I consider by greatest strength is a willingness to continue to take risks and try new approaches to all of the challenges of school operation.
In the recent past – I decided to pursue what I think of as an informal Ph.D. in Internet and Direct Response Marketing. I've traveled around North America – and spent way over $250,000 on a variety of internet marketing, direct marketing, and sales training seminars and programs – and, have developed several internet companies – many totally unrelated to martial arts.
I continue to run a chain of schools that's spread out from Washington, D.C. where we have a national training center, to Denver to Fresno and Miami along with New Zealand and Australia.
I've written a series of books on Marketing and Management for Martial Arts Schools and a series on Character Development and Leadership for kids and lecture around the world on School operations – and, continue to expand my knowledge of all details or running a successful martial arts business.
I've been a part of NAPMA since prior to it's founding, I developed it's Maximum Impact Program, Inner Circle, and Peak Performers and took over as CEO and Publisher in 2007.[/note] [/box]